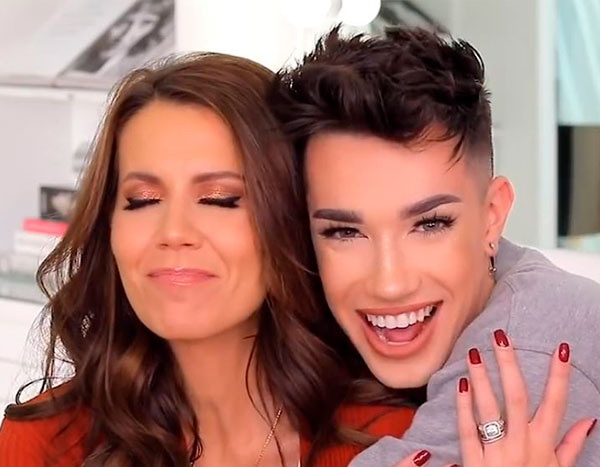 Tati Westbrook is ready to press pause on her public feud with James Charles… for now.
Less than a week after the YouTube star captivated the internet with a 43-minute takedown video of the 19-year-old beauty guru, she's clarifying her intentions in a new video titled "Why I Did It." The 18-minute clip delves into Tati's perspective on the continued drama between her and James, why she never thought the scandal would reach "this magnitude" and her future as a YouTuber.
Let's dive in, shall we?
Tati makes an emotional plea to her 10 million subscribers, telling the camera, "I do want the hate to stop. I want the picking sides and the abusive memes and the language, and all of that… I really hope on both sides it can stop. That's not why I made the video."
Instead, Tati says she did so as a "last ditch effort to be really loud and vocal" in reaching out to James, who she's mentored since the early days of his career.
"It was me trying to reach someone that was completely unreachable," she then explains. "It's about someone who reaches, across all platforms, 30 million people that are predominantly children. He is losing the ability to get honest more and more each day. I'm losing the ability to reach [out to him]."
The Halo Beauty founder then criticizes James, saying he had "zero respect" for their friendship and isn't hopeful that they can one day mend the bridges burned by his actions.
Nevertheless, Tati says in the video, "I don't hate James Charles. I don't want you guys hating on him… It's painful to watch someone that you have cared for be dragged and to know that this started because of me. I don't think anyone deserves that. I think people deserve a wake-up call and people deserve to be called out for actions. I think someone's got to do it. I hope that this inspires parents to have more conversations with their kids, because we are losing that."
"I can't say this enough," she later adds, I love James Charles. I loved him from the moment I met him. He was like this underdog kid that everyone took a s–t on. That's how I felt for a long time. So I felt like I needed to help him somehow, like I needed to help him because it was helping me. I know a lot of people aren't going to understand, or they think this is fake, or that they think that there was this big agenda or anything. There's not."
She goes on to confirm that she is indeed taking a break from YouTube while the drama fizzles out.
"So, yes, I am hurting, but so is James and so is our community and a huge audience and I guess I just pray that we can all just be kind with each other through this. I'm going to take a time-out and I'm going to come back and I'm going to continue to play with make-up because it makes me the happiest and I promise you, I am going to hold myself to an even higher standard because this is forcing me to really look at what really matters, and is working so much really worth it?"
"And is doing all of this at such a speed really worth it? And so, there's just a lot changing and I am so grateful for this whole journey because it's made me a better person, and I owe that to YouTube and I owe that to you guys," she says.
Watch the entire video above.